About the Lord's Harvest
The Lord's Harvest started in 1997 in a spare room as a Sandwich Program. The program rapidly grew as the need for its services increased.
Needing more space to serve more people with additional programs, The Lord's Harvest moved into the back of of Frans Antique Shop on North Rock Island Avenue in El Reno, Oklahoma. The Lord's Harvest continued their service to the community. With the cooperation of other businesses allowing them to use their store front area The Lord's Harvest was able to initiate successful holiday programs. Soon, space became an issue again.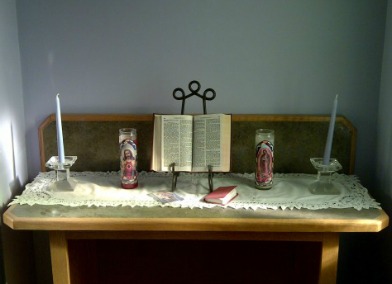 With limited funds and stepping out on faith, Director Nikki Pruitt and her husband, Marion, came across a building for sale in September 2008, the current location on Sunset Drive. They were able aquire the building with the funds they had available, God's gift as Nikki states.
Now, with the building in the The Lord's Harvest name, came the job bringing the structure up to code. Again, God blessed The Lord's Harvest with needed donations of service and money at the right time. They were able to repair the roof, electrical wiring, windows, and plumbing with the gifts of God through others and open their doors to continue serving the community.
The Lord's Harvest continues to operate from this building, offering a variety of programs and services to those in need. Following the teachings of Jesus, The Lord's Harvest continues to feed the hungry and take care of the needy.